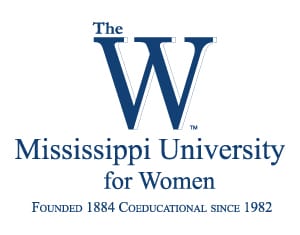 Accreditation
ACBSP, Southern Association of Colleges and Schools, Commission on Colleges
Mississippi University for Women was established in the early 1880s. As the first state-supported college for women in America, it made educational history. In 1982 MUW began admitting men and now provides high-quality educational resources for both genders in a variety of high demand fields.
Education
The College of Business and Professional Studies includes three departments offering degrees in Business, Culinary Arts, or Legal Studies. The College's Bachelor's of Business Administration program holds ACBSP accreditation for the concentrations in General Business, Marketing, Management, and Management Information Systems. The Legal Studies program is one of only two ABA-approved programs within the state.
Student Life
Students looking to gain leadership skills may be interested in joining The W Leadership Program. Participants get together monthly to learn about the foundations of becoming a leader like academics, community service, and personal development. The group takes on many community service projects each semester that serve the campus and local community. Females interested in growing their influence in politics should check out the NEW Leadership Mississippi, a program developed by Rutgers University to counteract the under-representation of women in American politics. This six-day institute brings women of all views and backgrounds together to discuss women's unique role in politics and leadership.
Intramural sports teams are a great way to have fun, exercise, and meet new friends. There are men's, women's, and co-ed teams in a variety of sports, including Dodgeball, Ping Pong, Indoor Soccer, and Swimming. The W Aquatic Center features a natatorium that serves as a place for swimming laps, taking lessons, or meeting with peers. Rec Fitness offers group exercise classes, personal training, Bootcamp fitness classes, and a unique bike share program. Many students also find employment within recreational programs. These jobs offer flexibility and are conveniently located on campus.
Online Programs
After completing two years of undergraduate course work at community college, students can begin their Bachelor's of Applied Science in Business Administration at Mississippi University for Women. This program is fully distance learning and offers concentrations in General Business, Health Care Management, Human Resource Management, Legal Administration, General Management, Management Information Systems, or Culinary Management.
The online MBA at MUW has an affordable Flat-Rate Tuition plan. This pricing includes tuition, fees, and eliminates all out of state fees. Full-time students can finish their degree in just three semesters and only ten months, while part-time students have the flexibility to work at their own pace. Professionals from all backgrounds are encouraged to apply to this leadership-focused program. The MBA core is built of courses like Leading Innovation and Change, Global Marketing Management, and Business Law. Elective classes such as Global Telecommunications, Product and Brand Management, Entrepreneurship, or Environmental Sustainability Management round out the degree.
SEE ALSO