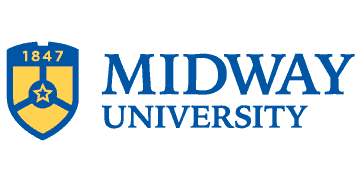 Accreditation
Southern Association of Colleges and Schools, Commission on Colleges
The School of Business, Equine, and Sport Studies at Midway University employs faculty members who are well respected, of high quality, and know precisely what is required to achieve success. The School reflects the Christian values of the University, including integrity, dignity, valuing others, responsibility, serving the community, and impacting the world. Through small class sizes, these instructors are dedicated to teaching from their personal experience and providing devoted attention to every student. Students can graduate with confidence in being well prepared as Midway is "the point between the classroom and the corner office."
Education
The Department of Business, within the School of Business, Equine, and Sport Studies, provides excellent undergraduate and graduate business degrees. Undergraduates can earn an Associates in Business Administration or a Bachelors in Business Administration with an optional concentration in Accounting. There is also a Bachelors in Marketing Communications with optional concentrations in Graphic Design or Writing. Students can minor in Business or Bourbon Studies.
Since business is global, students are encouraged to participate in a study abroad program at least once. Midway provides Study Abroad Fairs and connections to several providers that organize study abroad trips. Whether it is the Midway Study Abroad trip to Perugia, Italy, or a service-learning or faculty-led abroad trip, students are assured of gaining a valuable international perspective and experiencing the journey of a lifetime.
Undergraduates benefit from merit scholarships like the Ruth Slack Roach Leadership Scholarship Program to help students afford to pursue an education. Music, athletic, minority, new freshman, out-of-state, online access, study abroad, legacy, and religious scholarships are also available. Graduate students can participate in an Assistantship where they assist faculty members, grow in knowledge and experience, and receive payment towards tuition costs.
Student Life
To gain the most out of the college experience, students must get involved in student organizations, student activities, service projects, and community outreach. A wide range of groups exists, including Art Guild, Eagle Outreach, Fellowship of Christian Athletes, Gamma Beta Phi, and Habitat for Humanity. Also, all students are participants in the Student Government Association. Those interested in growing in leadership skills while helping others can join the PATH (Providing Academic Transitions to Higher Education) Mentoring Program. This program trains business students to mentor girls in area schools.
Every School is passionate about the success of every student. The Student Success Center provides an incredible amount of academic and career preparatory resources, including tutoring, developmental workshops, training, assistance with writing and math, career coaching, job shadowing, internship prep and connection, and networking opportunities.
Online Programs
The Department of Business has an online degree program option for every Associates and Bachelors business degree it offers. The Masters in Business Administration degree is only offered 100% online and can be completed in just one year with only a 30 credit-hour requirement. MBA optional specializations include Health Care Management, Tourism & Event Management, Equine Studies, or Sport Management.
SEE ALSO