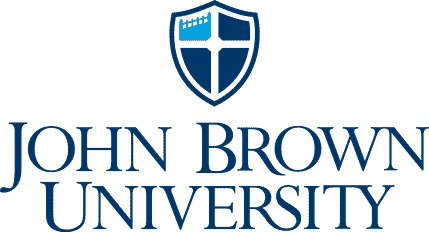 Accreditation
ACBSP, Higher Learning Commission
The Soderquist College of Business at John Brown University develops strategic leaders who gain an ethical perspective, knowledge of diverse business practices, competence, and problem-solving skills. It carries the ACBSP accreditation and works hard to build character and qualify students to impact and change the world positively. The highly experienced and determined faculty members prepare students to lead and manage organizations in ways that lead to "the greater good" and not just focus on acquiring profit.
Education
Undergraduate programs include a Bachelors in General Business, Finance, Management, Accounting, Entrepreneurship & Innovation, International Business, or Marketing. If they so desire, undergraduate students can obtain their MBA degree in just one extra year through the 4+1 program. Graduate students have a variety of on-campus, evening, and online courses to help work around busy life schedules. They can pursue a Masters in Business Administration, Design Thinking & Innovation, Leadership, or Outdoor Program Management. The MBA has concentration options in Cybersecurity, Market Research & Consumer Insights, Design Thinking & Innovation, Healthcare Administration, and International Business. Also, the MBA format is a hybrid mix of face-to-face and online coursework and interaction. This fall, the CoB offered its first entirely in-person cohort option for general MBA students.
Business students are highly encouraged to take classes in another country to gain pertinent international business perspective and personal growth. Undergraduate students can participate in study abroad trips to countries in Central America. Graduate students can study abroad in areas of Asia, Central America, and South Africa.
Student Life
Soderquist provides an extraordinary amount of enrichment and engagement groups, events, and activities that offer networking, outreach, professional development, and experiential learning opportunities for business students. Student clubs include the American Marketing Association, John Brown Investment Group, Professionals in Progress, and ENACTUS (Entrepreneurship in Action). JBU's ENACTUS group has built refugee homes in Uganda, provided Guatemalans with purified water systems and business skills for women, and assisted disabled adults. There is an ENACTUS competition where students can compete nationally. JBU's ENACTUS became national champions in 2017 and went on to compete at the ENACTUS World Cup in England. Also, during their senior year Strategic Management capstone course, students compete in the annual Governor's Cup Competition, where they create an entire business plan.
Other ways students develop professionally is through working with real clients in helping them market their business, participating in the Leader Scholars Program, connecting with the Alumni Network, and hearing from the experts in the annual speaker series, "Working for the Common Good." Undergraduate students are also required to participate in an internship to gain real-world field experience with an actual business.
Online Programs
JBU has risen to the challenge of providing their excellent business education through online programs for the working professional. Undergraduates can obtain an online Bachelors in Business Administration or Organizational Leadership. Graduate students have the benefit of earning the MBA with all of its concentration options, or the Masters in Leadership 100% online.