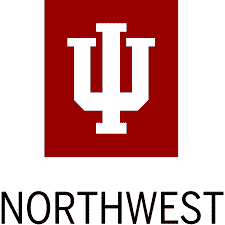 Accreditation
AACSB, Higher Learning Commission
The School of Business and Economics at Indiana University Northwest is proud to hold AACSB accreditation and strives to provide its students with a well-rounded business education. The business program emphasizes teamwork, technology, and leadership skills, as well as supporting and promoting the local economy through collaborative initiatives with the community and organizations. Experiential learning opportunities, such as developing marketing strategies, management training, and business simulations, are embedded within the curriculum. Finance students also take full advantage of the vibrant trading floor.
Education
Students choose IUN for its affordability, small class sizes, and dedicated professors. Undergraduate students can earn a Bachelor of Arts in Economics or a Bachelor of Science in Business. BSB students can complement their degree with a concentration in Business Administration or Accounting and Financial Information Systems. Minors for Business Administration students include Marketing, Human Resource Management, or Business Economics.
Graduate students can either pursue the Weekend MBA for Professionals or the Weeknight Hybrid MBA. The Weekend MBA meets every other Saturday, and the Weeknight program meets one weeknight every other week. Both degrees can be completed in just 18 months. Students will be supported through executive coaching and will evaluate their leadership skills through the 16 positive dimensions of personality. The highly desirable Lean Six Sigma Certification is also incorporated into the curriculum. Tuition is also very affordable, with the Weeknight Hybrid costing under $20,000 and the Weekend MBA under $40,000. The Weekend MBA inclusive tuition rate includes tuition, books, a tablet, and a culminating international trip to Thailand. The Thailand experience is a week-long trip during spring break, featuring company tours, and allows students to experience the culture, history, and food.
A 15-credit hour graduate certificate is also offered in Management, as well as a Postbaccalaureate Certificate in Accounting. These certificates can be earned in just a few months, and provide the boost on your resume to land a promotion or pay raise.
Student Life
Students have many great opportunities to network and have fun with like-minded individuals through business clubs such as Beta Gamma Sigma, the business honor society. The Accounting and Business Student Organization assists with programs such as Money Smart Week. There are many community service projects for students to get involved in, such as providing consulting services for small businesses. Accounting students can volunteer through the VITA program to assist low-income residents and senior citizens with their taxes. Students can also conduct research in conjunction with professors, with the possibility of having their work published or presenting at professional conferences. Networking and internship opportunities can help students land their first job after graduation, and study abroad programs help students gain a global perspective.
Online Programs
To accommodate modern students' busy schedules, and the growing demand for business professionals, a Bachelor of Science in Business Administration is offered 100% online. Graduate students also have the opportunity to pursue a Weeknight Hybrid MBA. Students are offered a wide range of online services to support their academic success, including an orientation, success coach, math and writing support, career services, access to library resources, and a 24/7 contact center.
SEE ALSO