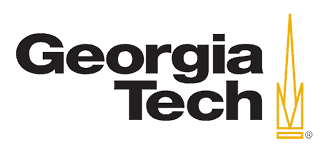 Accreditation
AACSB, Southern Association of Colleges and Schools, Commission on Colleges
The AACSB-accredited Scheller College of Business at the Georgia Institute of Technology offers students the incredible advantage of studying a rigorous business curriculum intersected with technology. Learning how to apply innovative technological advancements to any field of business increases career options and enhances the marketability of every student. Throughout the coursework, students will absorb principles of entrepreneurship, globalization, innovation, and sustainability and learn how they can positively impact any corporation, their lives, and the world.
Education
Expert faculty and staff instruct with passion and dedication to providing a supportive community and preparing students for success. Undergraduates can earn a Bachelors in Business Administration degree with concentrations in Strategy & Innovation, Operations & Supply Chain Management, Marketing, Leadership & Organizational Change, Information Technology Management, General Management, Finance, and Accounting. Graduate students can pursue a Full-time Masters in Business Administration, which offers immersive tracks in Technology Innovation, Leading Digital, and Leveraging Analytics. It also has 16 optional concentrations, including Law & Ethics, Strategy & Innovation, International Business, Leadership & Collaboration, and Managing Innovation & Technology. There is also the Evening MBA and the Executive MBA with the option to specialize in Global Business or Management of Technology. The two interdisciplinary Masters degrees are in Quantitative & Computational Finance and Analytics. Those who wish to educate can pursue a Ph.D. program in Finance, Marketing, Organizational Behavior, Accounting, Information Technology Management, Operations Management, or Strategy & Innovation.
To obtain essential international exposure, students can study business in places like Argentina, England, Australia, Germany, Hong Kong, New Zealand, Israel, Russia, and Singapore. A unique program available is the International Plan, which has a requirement of 26 weeks of global experience throughout their degree. It provides a more in-depth understanding and international exposure than traditional study abroad trips.
Student Life
A great way to network with peers, faculty, and the community, and grow in business knowledge and leadership experience is through membership in one of the many business student organizations. These groups include Consult Your Community, Diversity in Business, Marketing Association, Net Impact, Business Ambassadors, Women in Business, Sports Business Club, Entrepreneurship Club, Graduate Business Council, International Business Club, and Finance Club. Students can also participate in the CHARGE Leadership Program, which provides workshops, projects, training, activities, and service events that focus on developing social intelligence, communication skills, team efficacy, impact, and influence. MBA students learn how to apply their learned material through experiential learning opportunities and receive excellent advice from executive leaders. These opportunities include the IMPACT Speaker Series, Immersive Tracks in Leading Innovation, Strategic Management & Integrative Management Experience Project, case competitions, the Board Fellows Program, and so much more.
The Georgia Tech Ecosystem connects students with Fortune 500 companies to conduct real-world projects. Undergraduate Career Services and the Jones MBA Career Center assist students with a variety of resources. This includes workshops, networking events, developing resumes, navigating social media, personal branding, national job fairs, interview prep, job-search strategy, coaching, recruiting events, and finding internships.
Related Resources:
SEE ALSO