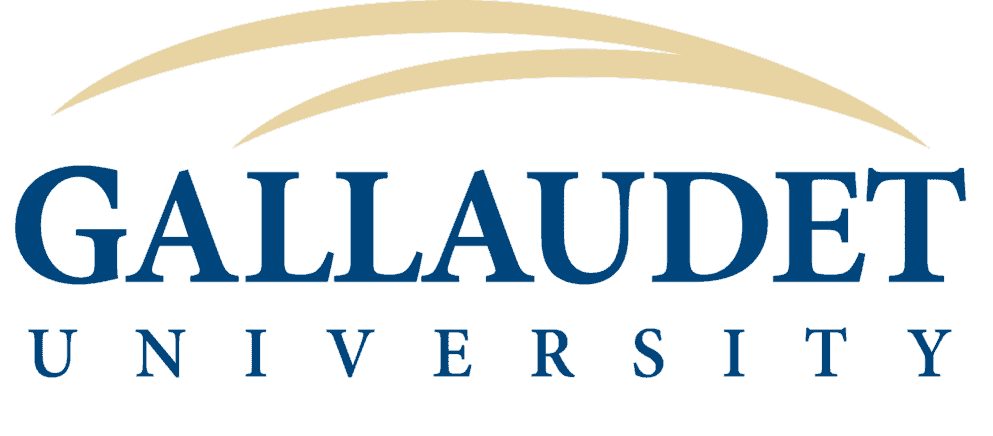 Accreditation
ACBSP, Middle States Commission on Higher Education
Gallaudet's School of Education, Business, and Human Services is dedicated to offering high-quality education and professional preparation within an interdisciplinary and dynamic learning environment. Each of the school's eight departments houses a unique mission. However, they all agree on a collective commitment to excellence in curricula, research, professional leadership, and preparation of graduates to work alongside hard of hearing, deaf, and hearing clients. A majority of the academic programs in the school are accredited by the leading accreditation bodies in their respective fields.
Knowledge of the history of Gallaudet helps students to understand better the School of Education, Business, and Human Services. Two acres of postmaster general Amos Kendall's land was donated to establish a school for 12 deaf and six blind students in northeast Washington, D.C., in 1856. Kendall persuaded Congress to incorporate the Columbia Institution for the Instruction of the Deaf and Dumb and Blind the very next year. Thomas Hopkins Gallaudet established the very first school for deaf students in the nation. His son, Edward Miner Gallaudet, became the new school's superintendent. A portion of the school was renamed Gallaudet College in 1894 to honor Thomas Hopkins Gallaudet. The entire institution took on this name by an act of Congress in 1954. Gallaudet was granted its university status in October 1986.
Education
Today, the School of Education, Business, and Human Services at Gallaudet University provides undergraduate students with 11 majors and six minors. There are 12 graduate programs at the university. Gallaudet provides doctorates with five programs and maintains three graduate certificate programs. The departments within the School of Education, Business and Human Services include the Department of Counseling, Department of Business, Department of Education, Department of Hearing, Speech, and Language Sciences, and the Department of Social Work.
Student Life
Gallaudet University maintains over 30 student organizations. The university's Office of Campus Activities understands that extracurricular involvement is a crucial educational resource that promotes the growth of students as scholars, leaders, and people. The Office of Campus Activities encourages student organization life by directing students to become involved in the full academic experience. It shares information about student activities and organizations that fit specific preferences and needs and offers professional advisement and organizational support. Organizations include CodaDet Organization, Green Grow, Tower Clock, and Graduate Student Association.
Online Programs
Gallaudet University's online education includes the Online Degree Completion Program. The online undergraduate degree program is for students who have accumulated at least 80 hours of college credits yet are unable to finish their program on campus as a full-time student. Deaf Studies and Psychology majors qualify for this online program. Distance learners can earn college credits through course completion offered in a variety of ways. The online courses are designed by the University and delivered by its faculty. Some online courses are sourced from the Online Consortium of Independent Colleges and Universities, of which Gallaudet is a participating institution. Other online programs include a hybrid M.A. in Clinical Mental Health Counseling, an online M.A. in Education: Advanced Studies, a hybrid M.A. in Sign Language Education, and a hybrid M.A. in Summers and Online School Counseling.