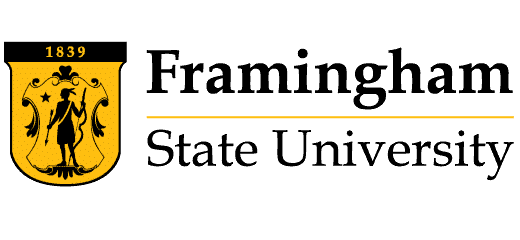 Accreditation
New England Commission of Higher Education
The College of Business is the newest college at Framingham State University. Professors are eager to share a fresh business perspective with their students within the three academic departments: Marketing; Management and Business and Information Technology; and Accounting, Economics, and Finance. The business programs are accredited by the IACBE.
Education
Undergraduate students can build a strong business foundation with a Bachelor of Science in Marketing, Business and Information Technology, Hospitality and Tourism Management, International Business, or Management. Management majors must select a concentration in General, Entrepreneurship, or Sports Management. The General concentration will consist of Managing Across Cultures, Human Resource Management, International Business, and three advanced entrepreneurship or management electives.
The Master of Business Administration is a highly desirable degree for many reasons, including career advancement, job security, and a higher salary. The MBA is offered in a hybrid format, with a combination of evening classes and online learning. This is an excellent choice for busy professionals who feel they would benefit from being part of a supportive cohort and interacting face-to-face with their professors. Classes span the duration of the entire semester, which is typically 15 weeks. This program allows students the flexibility to choose how many courses their schedule allows per semester. Students who enroll in three courses per semester can graduate at an accelerated rate in as few as 16 months. Students who opt to take two courses per semester will graduate in approximately two years, and those who prefer to focus on one course at a time will complete their MBA in about four years. Concentrations are available in Management or Biotechnology Operations.
Student Life
The CoB student body currently stands at about 800 undergraduate students and 100 graduate students. Freshmen can meet their peers through the Black and Gold Beginnings program, and those who are first-generation college students will be paired with first-generation faculty through the Gen One program. As students become upperclassmen, there are many leadership opportunities on campus. The Common Leadership team consists of Black and Gold Orientation Leaders, Foundations and SEALS Peer Mentors, Resident Assistants, and Student Admissions Representatives. The Career Services and Employer Relations Department features info sessions on how to find an internship, networking events, and monthly field trips to local businesses, such as Avidia Bank. The Suitable Solutions Career Professionalism Series provides students with the soft skills they need to be successful in their future careers. Students who complete all six events will be awarded a certificate at the Mocktail Mixer Graduation Ceremony and receive a free professional outfit from Macy's.
Online Programs
A fully online Master of Business Administration will launch Fall 2020. Students can complete this program in approximately two years. All classes are offered in a compressed eight-week format, and students should have ample time to dedicate to coursework. Students can select a concentration in Management or Biotechnology Operations. CareerSpots is an online database of over 600 short videos offering career advice on topics ranging from interview preparation to why you should use LinkedIn.