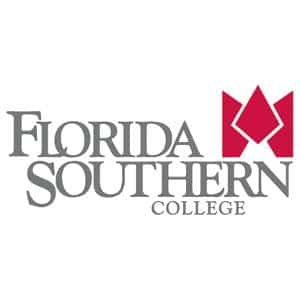 Accreditation
AACSB, Southern Association of Colleges and Schools, Commission on Colleges
Florida Southern College is a reputable higher education institution recognized by top publications. FSC ranked among the Top 10 Regional Universities in the South by U.S. News and World Report in the 2020 rankings. The AACSB accredited Barney Barnett School of Business and Free Enterprise offers a top-notch business education and is named on the Princeton Review's list of Best Business Schools in 2019. It is also recognized as one of the Best Undergraduate Business Programs by Bloomberg Businessweek. Alumni have been placed in careers with leading corporations such as Deloitte, Geico, and Publix.
Education
Bachelor of Business Administration students are able to designate a career track in Finance, International Business, Management, or Marketing. Undergraduate students can also major in Business and Free Enterprise, which seamlessly combines the study of political science and economics on the impact of business analytics. Students are engaged in class through hands-on projects, such as product design and presentations. Another component that sets the business program apart is guaranteed internships for 100% of students, allowing students to learn through real-world experience. Students have completed internships with AAA, Merrill Lynch, NASA, Walt Disney World, Bank of America, and Raymond James. Marketing students also have a guaranteed travel/study option. All classes are taught by professors with advanced experience in their field, who provide extensive opportunities for networking.
Student Life
There is a wide array of business clubs for students to make their mark on campus. Students can join Delta Sigma Pi, the Real Estate Club, the Dean's Advisory Council, and many others. Undergraduate students have also participated in national and international study programs in thriving economic markets like New York City, Washington, D.C., Italy, and Belize. Students also have opportunities to give back to the community through involvement in Enactus, the Center for Free Enterprise, or the Institute for Accounting Excellence. Graduate students are paired with an Executive Mentor to help them navigate the trenches of career advancement. The MBA International Travel program has visited destinations such as Argentina, Australia, Brazil, China, France, Germany, Hong Kong, Malawi, New Zealand, South Africa, Switzerland, and Vietnam. Students attend classes in the morning and tour businesses such as Intel and Samsung in the afternoons.
Online Programs
The Master of Accountancy is offered in a convenient hybrid format. The MAcc program meets the requirements to sit for the CPA exam and includes a CPA Review Course. Within the 30-credit hour curriculum, students will gain knowledge in forensic accounting, cost accounting, and auditing. The Master of Business Administration is offered in either a hybrid or fully online format. Students in the fully online format will be required to attend a two-day orientation and must make a final presentation on campus. All classes are seven weeks long, and students can graduate in 12 to 24 months. Students will gain practical experience by completing consulting projects for real firms. Graduate students can also accelerate their careers by earning a 16-credit hour professional certificate in Supply Chain Management or Healthcare Management. Students in the certificate program may also select the hybrid or online format.