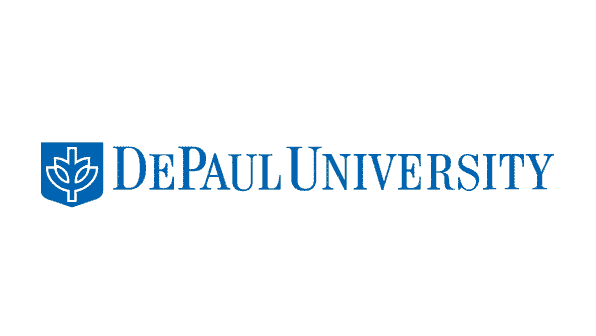 Accreditation
AACSB, Higher Learning Commission
Finding its beginning in 1912, the AACSB-accredited Driehaus College of Business at DePaul University is highly respected for its rich history, Catholic values, and wealth of experience. Around 6,000 students enroll in degree programs that offer advanced business theory, knowledge, and opportunities to apply what is learned immediately. This gives students a chance to develop leadership skills, social responsibility, and a solid global perspective to succeed in the business world.
Education
Having small class sizes and professors who care to know students personally and work closely with them in achieving their goals allows students to gain the most out of their degree programs. Undergraduates can major in Actuarial Science, Economics, Hospitality Leadership, Management Information Systems, Real Estate, Accountancy, Business Administration, Finance, Management, or Marketing. Driehaus College of Business is home to the Kellstadt Graduate School of Business, where graduate students can pursue any of the 17 different programs. The programs include a Masters in Business Administration, Accountancy, Business Analytics, Enterprise Risk Management, Finance, Marketing, Real Estate, Sustainable Management, Entrepreneurship, Hospitality Leadership, Supply Chain Management, or Taxation. The MBA offers 14 areas of concentrations and can be completed full-time during the day, in the evenings, or on weekends. To take it one step further, students can obtain a premier Doctorate in Business Administration degree.
All types of scholarships are available to Driehaus students based on the area of business being studied, academic merit, leadership and service abilities, and financial need. There are also scholarships available to study abroad. Business students can gain impeccable international business exposure through studying abroad in places like Czech Republic, Germany, London, Hong Kong, Florence, France, Iceland, India, Sweden, Japan, Rome, Spain, and Switzerland.
Student Life
Business students can engage with others and grow in leadership ability through the student-led organizations like the Sales Leadership Society, Investment Banking Society, NABA, Women in Business, Accounting Club, Beta Alpha Psi, Hospitality Financial & Technology Professionals, Phi Sigma Pi, Music Business Organization, Club Managers Association, MBA Association, and Collegiate Entrepreneurs' Organization. The Career Center assists with career coaching, resume building, interview prep, finding internships, job shadowing opportunities, networking, searching for jobs, and career fairs. Kellstadt has its own Career Management Center for graduate business students.
Since the University is located right in the middle of the dynamic business community of Chicago, students have a plethora of businesses from nonprofits to global corporations to connect to, learn from, network with, and partner with for internships. Both undergraduate and graduate students can be paired with a mentor through the Business Mentorship Program and receive personal guidance from an experienced leader. Fifteen centers and institutes connect Driehaus students, alumni, faculty, and the local community to the global business world. They are highly beneficial to the overall educational experience as students partake in research, networking events, outreach, and connecting with leaders in the field.
Online Programs
The online AACSB-accredited Masters in Accountancy offers the same high-quality teaching, expertise, and educational experience as the on-campus degree, just with more accessibility and flexibility in schedule.
SEE ALSO