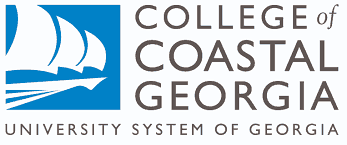 Accreditation
Southern Association of Colleges and Schools, Commission on Colleges
The College of Coastal Georgia holds regional accreditation through the Southern Association of Colleges and Schools Commission on Colleges. The School of Business and Public Management offers cutting-edge programs which are meant to be a spring-board for students into leadership positions and give them a global and entrepreneurial perspective.
Education
Students of the School of Business and Public Management at the College of Coastal Georgia can earn a bachelor's degree in Criminal Justice, Business, Health Informatics, Public Management, Hospitality and Tourism Management, or Workforce Management and Leadership. There are an additional 16 areas of concentration for those who would like to further personalize their degree. A few of the specialization options include Economics, Marketing, Finance, or General Business. Associates degrees are also offered in the areas of Hospitality Management, Culinary Arts, and Criminal Justice, making a smooth transition into a bachelor's if desired. While each degree is unique, common themes among the programs are analysis, meaningful leadership, and effective decision-making. The average student to faculty ratio for most courses is 19:1. Small class sizes combined with high-quality instructors and an emphasis on experiential learning make for an ideal learning environment for students at all stages of their education.
Student Life
The School of Business and Public Management upholds high standards of learning and offers both on-campus and online degree options. Service learning plays a vital role in the culture of the SBPM, regardless of the degree track chosen. This focus allows students to gain a comprehensive view of business from both for-profit and nonprofit standpoints. All bachelor's degrees also include a 15-week senior internship which encourages students to put what they learned in the classroom into practice. The program is guided by intern hosts who help guide students through their experience and assist in skill and network building. Additional business mentorship is given through the Brown Family Executive-in-Residence and Coastal Conversations on Leadership. The Brown Family Executive-In-Residence is a retired leader who gives lectures, career advice, and organizes get-togethers for the campus community. Coastal Conversations on Leadership is a unique series of live interviews with successful Golden Isle residents who volunteer to share their experiences with the student body.
Online Programs
Those who are interested in completing their degree online can earn a distance learning Bachelor's of Applied Science in Workforce Management and Leadership. This is a unique degree that builds on the technical skills and knowledge acquired in an Associate of Applied Technology or Associate of Applied Science program. Thirty credit hours of this program are designated to Professional courses which cover subjects such as Workforce Communications, Foundations of Leadership, Personal Leadership Development, and Workforce Crisis Management. Students who elect to complete the Technical and Industrial Track will also take courses in Lean Manufacturing in the Workforce, Workforce Project Management, Workforce Supply Chain, Logistics, and Material Management, as well as, complete a Capstone Site Project.
SEE ALSO