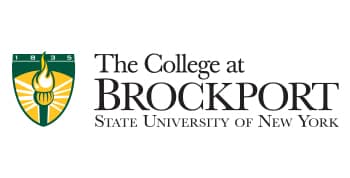 Accreditation
AACSB, Middle States Commission on Higher Education
The College at Brockport-SUNY's School of Business & Management offers several unique programs, including participation in the Annual Pettis Family Business Plan Competition. During this competition, teams must submit a two page executive summary of a business proposal. For teams who move on to the second round, a presentation will be evaluated by a group of business experts, and the winner is awarded a cash prize of $2,000. At the next level, students are invited to the statewide competition and have an opportunity to win a cash prize of $100,000.
Education
The Business programs offered through the School of Business & Management are accredited with AACSB International. The School's Public Administration programs are also recognized by NASPAA through 2026. Students have an opportunity to earn either a Bachelor's of Science or Bachelor's of Arts in top fields such as Accounting, Finance, Marketing, and International Business. Minors can be completed in Accounting, Economics, Finance, General Business, or Marketing. At the master's level, there is both an MBA and MPA, as well as graduate certificates in Arts Administration or Nonprofit Management. Both the Master's of Business Administration and Bachelor's of Business Administration can be completed online. Having the BBA and MBA as distance programs allow students at all stages to easily meet all of their learning goals from one convenient workspace.
Student Life
Student activities are approached holistically at the College at Brockport-SUNY. An on-campus fitness center includes work out equipment and a variety of group fitness classes. The University is also home to more than 23 NCAA Division III intercollegiate sports teams and supports over 600 student-athletes. Students who have an interest in Fine Arts have opportunities to participate in major theatre productions, dance concerts, music performances, and art exhibits. Additionally, the Leadership Development program and community service projects provide a great way for students to help their community while gaining unique experiences, building friendships, and networking with others with similar goals.
Online Programs
The School of Business & Management at The College at Brockport-SUNY includes two online programs. This distance Business Administration programs at the College at Brockport-SUNY are the only AACSB accredited online degrees among business administration programs for SUNY schools. The Bachelor's of Business Administration program is geared towards transfer students at the Junior or Senior level. Participants work to enhance their working knowledge in the areas of teamwork, communication, and presentation skills. Courses also cover challenging topics such as Introduction to Managerial Accounting, Business Statistics, Fundamentals of Business Computing, and Calculus. The Master's of Business Administration degree caters to mid-career professionals looking to increase management and leadership skills. Seventy-five percent of coursework is completed online with two residency days per semester. Residency days allow students to further strengthen their relationships with classmates and teachers.