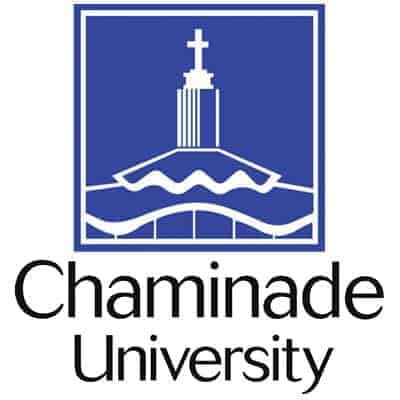 Accreditation
IACBE, Western Association of Schools and Colleges, Senior College and University Commission
The IACBE-accredited School of Business & Communication at Chaminade University believes in the pursuit of excellence, innovation, peace, entrepreneurship, social justice, respect, diversity, and collaboration all rooted in the Catholic faith and tradition. The highly qualified faculty members are forward-thinkers who instill critical-thinking and problem-solving skills in every student. They work hard to develop graduates who are world-changers and successful in their careers and life.
Education
Undergraduate students can obtain an Associates in Business Administration; or a Bachelors in Accounting; Communication; Business Administration, with a concentration in Marketing; or International Studies, with a concentration in International Trade. Undergraduates can minor in Business Administration, Computer Information Systems, Accounting, Communication, International Studies, Marketing, and Economics. Graduate students can study for a Masters in Business Administration with concentrations in General Business, Accounting, Healthcare Administration, Island Business, Not-For-Profit, and Science & Technology Innovation. The MBA can be completed in just 18 months, has evening classes available, and can be completed at your own pace. There is also a Graduate Certificate in Business Administration.
Qualifying students can receive Merit-based or Need-based Scholarships, Religious Scholarships, Native Hawaiian Scholarships, Athletic Scholarships, or Donor-Sponsored Scholarships. Undergraduate students can participate in a Work-Study Program where they have a job on campus that helps pay for their educational costs. Study abroad opportunities are available to places like Denmark, Australia, Italy, Germany, Argentina, Japan, England, Spain, India, France, and China to give students an incredible international cultural experience.
Student Life
In order to offer a well-rounded educational and life experience, Chaminade has many student organizations available for business student participation. Such groups include Alpha Phi Sigma, Student Government Association, Accounting Associates, Communications Club, Fitness Club, The Filipino Club, Campus Ministry, Malama Honua, Korean Club, Ohana Club, Rotoract Club, Adventure Club, and recreational sports groups. Also, students can get involved in recycling on campus to help keep the island sustainable. The Cultural Immersion Pacific Island Review and International Extravaganza is an event where students from all over the globe come together and share in each other's cultures and experiences. The Vi and Paul Loo Student Center is open late and offers sports, rentals, pool and ping pong, study areas, computers, televisions, gaming systems, and a great place to hang out and build community.
While in school, students need ways to develop their professional skills, and Chaminade provides numerous service-learning projects, research opportunities, internship connections, leadership development, and networking events. The University also offers business students the chance to receive spiritual guidance, character building, and activities that serve others in the Marianist tradition. Several centers and offices including the Office of Strategy and Innovation, the Center for Student Leadership Development, the Center for Teaching and Learning, and the Office of Native Hawaiian Partnerships are available for student participation.
Online Programs
Several degrees are available entirely online, including the Associates in Business Administration, the Bachelors in Business Administration, the Bachelors in Management, and the Masters in Business Administration.
SEE ALSO