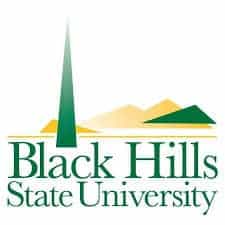 Accreditation
AACSB, Higher Learning Commission
Black Hills State University is located in Spearfish, South Dakota. According to Architectural Digest Magazine, Spearfish is one of the 21 Best Small Towns in America. The campus sits within the famous Black Hills. It is considered among the best colleges for outdoor adventures due to its proximity to many outdoor activities such as hiking, biking, fishing, and snowboarding.
There are over 80 degrees available from associates to master's degrees with many comprehensive options through the School of Business. 92% of BHSU students receive some form of financial assistance. There are also several School and University-specific scholarship opportunities. The University works to be a vital part of the local community with initiatives such as the Veteran Legacy Project, where students and professors work together to create public history materials that honor those who are served in the armed forces.
Education
The School of Business offers many in-demand undergraduate majors such as Economics and Finance, Marketing, Professional Accountancy, or Human Resource Management. Driven students can also earn a minor in Military Science. The Army ROTC program is a unique opportunity that builds leadership skills, provides specialized scholarship and internship opportunities, promotes time management, and improves decision-making skills. Participants in ROTC will be a part of the program while completing their core degree. Academic courses for this minor include Training Management and Warfighting Functions, Applied Leadership in Small Unit Operations, The Army Officer, Company Grade Leadership, and Internship.
Graduate students can earn their Master's of Business Administration at BHSU. This program focuses on Applied Management and holds esteemed AACSB accreditation. Participants meet at the University Center in Rapid City for face-to-face classes. Courses include but are not limited to Managerial Accounting, Law and Ethics, Strategic Management, and Global Business Management. There is a children's learning center on-campus. The Center is open from 7:00 am to 5:30 pm and would be an excellent option for parents with children ages four weeks to five years as they work towards their educational goals.
Student Life
Black Hills State University is surrounded by beautiful scenery and offers many outdoor recreational activities. The University is committed to sustainability, so much so that they have a Sustainability Master Plan with goals through 2030. Being environmentally conscious is a part of the BHSU experience. There are activities and programs on campus, such as recycling, a campus garden, community forest, and more. Clubs provide a way to connect with peers with similar interests. With over 80 organizations, students are sure to find a club that fits their personality. Some of the options on-campus are Rotaract, University Ambassadors, bicycling club, and Enactus. Alternative Spring Break is a program that allows students and local residents to spend their Spring Break participating in experiential learning activities, leadership development, diversity awareness training, and community service activities. This type of activity is a great way for business students to network, learn through doing, and provide help for their local community.
SEE ALSO