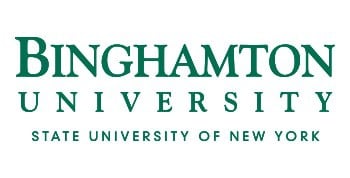 Accreditation
AACSB, Middle States Commission on Higher Education
Binghamton University's business programs are well-respected and represent a high standard in the business education world. 2020 represents the 50th anniversary of the School of Management. Over the years, the School of Management has grown and evolved into a top US business school. It consistently receives many accolades, such as Top 50 Best Undergraduate Business Schools by Poets and Quants, #15 in Best Value College for Business Majors with Payscale, and Top 90 Best MBA Programs in the US with US News and World Report.
Education
At the undergraduate level, there are two distinct programs available. The Bachelor's of Science in Accounting at Binghamton is recognized among the best in the country. The core curriculum includes courses like Legal Environment of Management, Computer Tools for Management, and Integral Calculus. The program builds from there with experiential learning opportunities, case studies, internships, networking events, study abroad programs, and more. The Bachelor's of Science in Business Administration provides a comprehensive foundation for students as they enter the workforce or move on to their MBA. Courses within the program are rigorous and cover topics such as statistics for management, principles of microeconomics, and computer tools for management. Concentrations a varied and include Entrepreneurship, Leading and Consulting, Quantitative Finance, Marketing, and more. The Accelerated 4+1 program allows students to complete their undergraduate degree and master's degree in only five years.
Graduate offerings are MBA, Master's of Science in Accounting, or Management Ph.D. The Master's of Business Administration program is nationally recognized and has many convenient completion options. These are Four Semester MBA, One-Year MBA, Management/MBA 4+1, Harpur/MBA 4+1, Watson/MBA 4+1, and an Executive MBA based in New York City. The Harper and Watson MBA options offer a unique collaboration between the business school, the Thomas J. Watson School of Engineering and Applied Science, and the Harpur College of Arts and Sciences.
Student Life
Students can get involved on campus through many outlets, including volunteering, clubs/organizations, intramurals, and more. Multiculturalism is an important value at Binghamton University. The Multicultural Resource Center supports over 150 cultural student organizations. These programs seek "to educate the campus community through initiatives designed to increase awareness and understanding of cultural diversity, its significance in the advancement of all fields of endeavor, and in navigating our world."
The MRC also offers internship opportunities, student mentoring programs, workshops, grants, and more. This resource is especially beneficial to business students who will be entering into a very diverse career. Wellness is a top priority at Binghamton. Because of this, there are many health and wellness related resources available to students. Hiking trails, emotional and career counseling services, healthy dining options, and a unique wellness suite are just a few of the opportunities available for students to take care of themselves as they complete their studies.
SEE ALSO